Bezmaksas Hostings eLATVIA Data Center
3. Strategic Location
Part of our strategy for good quality of service is the strategic location of our data center. Therefore we chose the best of the best possible options. Our servers are co-located in Lambdanet datacenter in Kiel, Germany. It has 14 internet peering points and is linked with redundant Internet connection - pan-European Tier 1 fiber-optic network which serves at rates of 50 Gbits to any part of the world. This makes our hosting services preferred hosting partner around the world based on our strategic location and stable connectivity to any part of the world.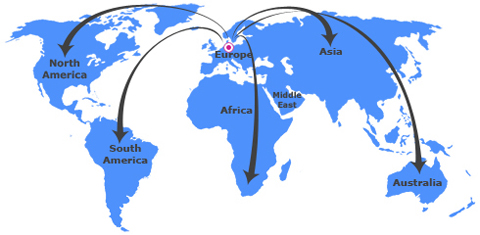 Darbu sācis mūsu jaunais bezmaksas hostinga serveris. Izvietojiet savas web lapas pilnīgi par brīvu. Ja jums ir savs domēns - hostings pie mums tam būz bezmaksas. Iespējams pievienoties un ielādēt failus caur FTP vai izmantojot kontroles paneļa failu menedžeri. Visiem lietotājiem aktivizēts PHP, MySQL, CGi, Lapu statistika, e-pasta kastītes ar @tavs-domēns.lv un tas viss par brīvu un BEZ nekādām uzmācīgān reklāmām vai hostera baneriem. Izveidojiet savu mājas lapa par brīvu.
Par Bezmaksas Hostingu.